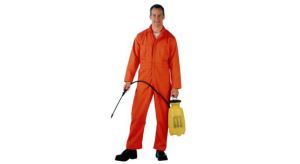 The most effective and most recommended option to get rid of pests in your home or in your business is to appeal to specialists in pest management.
However, many people prefer to exterminate themselves insects that enter their homes instead of calling professionals. And that, for specific reasons, is a so-called myth.
The six main myths that encourage people not to appeal to professional exterminators services to get rid of parasites.
First myth: "I have only seen a few parasites in my house …!"
Many people think they can control insect pests by themselves because they have found very few insects in the house. However, most pests are nocturnal and hide in cracks and dark corners. Therefore, it is generally difficult to know exactly how many parasites there are (unless you know their usual hiding places and have the necessary knowledge).
Before undertaking the extermination of insects by itself, it is important to inspect the premises by a professional pest management. It will help you to know the hiding places and provide advice accordingly the number of insects present and species.
Piece of advice: Do not judge by little you see. It may be that there are more hidden bugs in your home that you think …
Second myth: "I can easily find insecticide products in malls …"
Most pesticides such as insecticides and pesticides can be purchased in grocery stores and other large store surfaces. However, you should know that the product you wish to buy may not be the right product for your situation . Indeed, perhaps have you incorrectly identified the insect at home or did you take a product by chance … Maybe you purchased the wrong product!
The fact that you hire a professional pest management company that provides services for several years will help you correctly identify parasites with his knowledge and his general entomological expertise. In addition, the expert can apply the best control methods adapted to insect pests.
Hiring an expert in extermination will also help you reduce the risk of the contamination of food and water when spraying the product as it is mandated to follow rigorous standards during treatment and should choose a less risky insecticide to health and the environment.
Third myth: "Exterminators are very expensive !!!"
Many people consider that it is expensive to hire a professional pest control firm.
This is not true.
Most companies offer an estimation and inspect your home for free. In addition, they choose the right product for your situation and easily adapt to your demands and restrictions. They are also available free on social medias to answer your questions and they provide you with a Blog to explain their methods and to let you know more fully on parasites.
Without their help, you may not be able to completely exterminate the parasites in a single treatment (all depending on the species to be exterminated and at the stage of infestation) and it will cost more to buy various products than to deal with them …
Tips: Know that over the years the exterminators know pests and know that many species adapt to certain insecticides. They know from experiences, and how to thwart them to find the most appropriate methods and treatments to get rid of parasites more effectively.
Fourth Myth: "I'm only available after working hours."
Most people do not consider pest control companies because they are only available in the evenings and on weekends to accommodate the exterminators.
You need to know that the majority of pest control companies have very flexible hours and exterminators can work long evenings and weekends. In fact, they are virtually open 7 days and open 24 hours, even on emergency to accommodate all guests.
Professional exterminators are able to suit schedules and tight deadlines and still manage to work up to the expectations. And that, as they understand that the presence of insects or vermin in his property is worrisome and that peace of mind is to be found quickly.
Fifth Myth: "The work of exterminators is not guaranteed for a single treatment …"
It is true that some unwanted insects can not always be eradicated from the start. However, parasitic management companies can develop an action plan to exterminate pests completely, and, respecting the principles of integrated pest management. And even if the parasites are not all eradicated after the first treatment, they will be after a second or third!
In addition to enlighten you on the variables that caused the infestation in your home, they remedy the infestation, they monitor and ensure that pests do not come back. Their work is always guaranteed in writing and pest management professionals are your allies in pest control.
Without their help, you may not be able to overcome the infection because of your schedule constraints that prevent you from doing the treatment at the right time. Do not run out to try by all means to exterminate the pests, let exterminators deal with it. It's their job.
Sixth Myth: "My safety and theirs are compromised with their insecticide / pesticide …"
Some anti parasitic treatments involve risks to the health of humans, animals and the environment. In addition, many people fear that professionals will damage their homes or properties taking unnecessary risks and not paying attention to their homes …
However, you should know that the pest management companies insure their workers against such risks and you also guarantee full respect for your property.
Products insecticides and biological pesticides are recommended by companies pest management. They use chemicals as a last resort and rigorous procedures are applied in order not to harm your health or the environment. No exterminator does endanger the health of anyone and their treatments are applied so that they do not involve risks to species that are not affected by treatments.
Do not worry, your home will remain intact, as you left before treatment. And … if a company such as A to Z Extermination would not pay attention to its customers, their health and their properties, it would not be as much fame after more than 20 years of efficient and impeccable services!
Do not do it alone in your fight against parasites!
At the first signs of the presence of pests, contact the pest management experts from A to Z Exterminating across Montreal and the surrounding area!