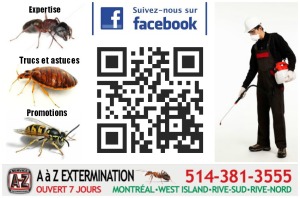 The extermination of unwanted pests and management of animal and rodent pests in Montreal is actually a procedure that may seem a bit complex or unknown to the people.
From your call, your letter or submission form via website, the intervention of our professional pest management, the complete extermination procedure involves several strict steps.
To learn more about our work, here is what is the general procedure of extermination. Note that wether you're the owner, trader, restaurateur, manufacturer manager, etc. the procedure is almost the same, but still customized for your situation.
#1. Contact and Description Of Your Problem
The presence of cockroaches, rats or bed bugs can cause certain reactions in some people like fear and anxiety. For others, parasites can be completely disruptive for commercial and harmful activities for the reputation …
Our exterminators fully understand that to be exceeded by the presence of parasites can cause panic and bring a lot of inconvenience. It is their role to reassure you on first contact.
The fact to refer to dedicated specialists of insects that lived countless experiences in this area will allow you to properly understand the situation you're facing, knowing (after identifying the parasite) what is the parasite in question, and also knowing that our experts can solve your problem quickly and efficiently than if you had taken the extermination into your own hands…
Our professionals will tell you by phone or email how they will address the situation and take urgent appointments or not (depending on the severity of the problem) to assess the situation there.
#2. On site Problem Identification
Depending on what you described in your call or your online submission form, your application will be ranked according to priorities for intervention.
All depending on the level of infestation of mice/field mice, the presence of carpenter ants, risk wasp stings, the presence of bed bugs, and where to place this infestation, we intervene in emergency or as soon as possible.
Rest assured. All your demands are extremely important and considered by our exterminators and speed of response, whether emergency or not, is non negligible. We have offices in more than 35 cities in Quebec, concentrated in the Greater Montreal area. So, our professionals are certainly near you!
On site, our exterminators will identify:
The type of infestation (insects / rodents / wildlife?) And if there really is infestation;
What are the signs of their presence;
What damage (as they notice and what you have found);
How parasites found themselves at your home / business, etc.
And, in order to offer you the most suitable treatment for your situation.
#3 Our Available Treatments
All depending on the amount of parasites of that species, our exterminators will propose three solutions:
The indoor or outdoor extermination treatment (curative)
In the presence of a significant number of insects or unwanted rodents, must make their extermination so the infestation does not get bigger. An infestation can be severe for both the reputation of your company and for your psychological well-being and health.
Depending on your situation and your needs, our exterminators find the most appropriate treatment possible. They offer anytime using organic methods and environmentally friendly and species not covered by their intervention.
Our extermination treatments include an evaluation after treatment to ensure that all parasites are indeed destroyed. Preventive recommendations will be made thereafter to prevent further infestations.
This way, you will quickly find your peace of mind without fear of retaliation from these pests.
Pest Control (Control)
The extermination with insecticide / pesticide is not always necessary in some cases. For example, when there are few insects or rodents, or that there is the presence of pests, our exterminators do not use spray treatments.
They prefer to restrict the use of insecticides and pesticides (even if they are organic) in order to be as respectful as possible of the environment. We use tights or traditional traps and baits can be the most suitable to the species that has been identified in order to capture and effectively control his presence.
If there is the presence of skunks, groundhogs or raccoon, we use cages to capture harmful and re-locate later in an environment suitable for their survival.
Preventive Treatment (prevention)
Whether you have a restaurant, you are building owner or housing residents, our exterminators favour anytime prevention. Their goal is to effectively control the intrusion pests in your environment, wether you have already faced a pest infestation or not.
With a rigorous analysis of your situation, they will design a tailored and a comprehensive program of prevention and monitoring, while respecting the standards of IPM, hygienic standards and environment.
Our extermination procedure is approved for more than 30 years in more than 35 cities in Quebec!
Our exterminators are available 24 hours, 7 days out of 7 (and in a hurry!), wether you are in the Greater Montreal or elsewhere (North Shore, South Shore, West Island) we get rid of parasites quickly, efficiently and in a personalized way, that affect your everyday life!