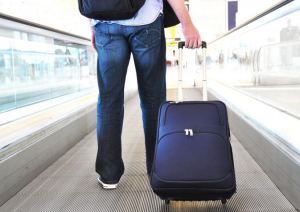 Snow begins to fall … Soon, many of you will go on vacation or are already planning their next trip.
Did you know that the presence of bed bugs increases in Quebec because of the increase in international travel? Anything can happen on a trip and to be well informed can make you avoid the presence of bed bugs.
To prevent these parasites from hiding in your luggage on your trip, here are some advice from your exterminator in Montreal to prevent bed bugs during your vacation.
*If you suspect the presence of bed bugs, we recommend to contact an exterminator immediately to have them exterminate rapidly.
Prevent The Presence Of Bed Bugs Before Leaving
Hotels are perfect homes for bed bugs because of the availability of hosts for food, an important customer turnover and the difficulty of ensuring 100% effective control of bed bugs in such facilities.
Regardless of the number of stars of the lodging, hotel or other establishment and no matter how clean the train, cruise ship or bus traveler, bed bugs can navigate.
Bedbugs, the blood-sucking insects, can easily hide in your luggage, clothing or other personal effects. .
#1 Do some research on the internet and read the advice and comments from people on where you will stay. Maybe some people have issued warnings about bed bugs. TripAdvisor is a reference. Hotel.com also allows guests comments about these frequented places.
Next, check the policy or the settlement agreement to see if you can cancel the reservation without charge, in case there would be bed bugs
#2 Look for information about bed bugs to better understand these parasites and the inconvenience they cause. A Google search will give you extensive information about the bugs. One person warned is forearmed!
You Can Also Refer To Some Articles From Our Blog:
#3 If your bags and luggage are textile or dark color, you can wrap them in a well-closed airtight plastic bag. You can also opt for a case with a hard plastic shell, preferably pale color.
Bring also large airtight plastic bags in case you should divide your belongings during the trip. And do not bring the pillow you commonly use. It will be one less hiding place for bugs …
Once At Your Hotel (or other), What Should You Do?
When you arrive at your hotel, your inspection will be crucial.
Of course, it is not a question of panic, because the goal is to enjoy your trip without worry.
However, remember that if you establish a small routine at every hotel, inn, guesthouse where you deposit your luggage, the bed bugs might affect your daily life when you get back … so inspect your room before entering luggage or other items.
Do not put your luggage on the bed or on the couch or chairs. Place them on a tile floor in the entrance or in the bathroom. You can also leave it on the rack.
Inspect the bed at every angle to see if there would be no bugs or dark spots (insect droppings or dried blood). You can, for example, lift all corners of the mattress, and then examine the folds and seams, around and behind the bed, pillows, bedding and bed skirt, the frame and bed feet
After you've examined the bed, Also check the bedside tables, drawers, cracks or crevices evident around the bed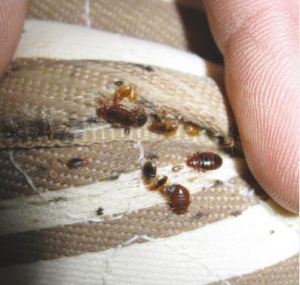 In case the presence of bed bugs is confirmed, take out your luggage in the room and immediately report the receipt and demand another room or change hotels.
Make sure you check in advance if the reservation could be canceled. If you decide to stay in this hotel, choose a room that is farthest possible to that which is infested.
The day you leave the hotel, be sure to check your luggage so that they do not contain insects. If you find bed bugs, place the clothing and personal effects infected in sealed bags. Leave them in quarantine and then pull them out once you return home for washing.
What To Do When You Come Back From Your Travels?
If you have not detected bugs in your luggage after being in a room infested with bed bugs, you should inspect thoroughly your personal belongings to ensure you have none.
One of the most important issues in the fight against bedbugs is how did we bring them with us. So to be sure that you didn't bring them during your travels:
Leave your suitcases in the entrance (preferably on a tile or wooden floor) and inspect them carefully as well as their content.
Wash all your clothes without exception in the hottest water possible. If you are in an apartment, put your clothes in an airtight bag and go to the laundry room. If your items can not be machine wash, put them in the dryer at high temperature for a minimum of 20 minutes. Also clean your suitcase.
Warning
If you do not find bugs in your luggage and the infestation still occurs a few days after your return, you absolutely have to contact an exterminator.
The longer you wait before you call, the more bugs multiply and spread in several places in the room – mainly-. Therefore it will become more difficult to exterminate completely all bugs, larvae and eggs and you'll frequently get bitten …
A to Z Extermination is a specialist in the fight against bed bugs everywhere in and around Montreal!
As soon as you suspect bed bugs, call us quickly!